BBG General Manager, Katy Holmes, and John Martin St. Valery OBE Meet with the Department for Economy and Tourism
Date Posted:Thu, 14th Sep 2023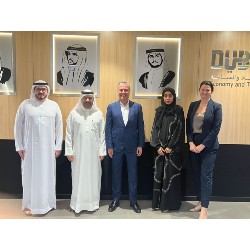 "Today's meeting with the Dubai Department for Economy and Tourism reinforced the crucial role of collaboration in ensuring the success of the UK-UAE corridor for business and leisure. There is great potential in partnerships like that of the DET and the BBG in creating a thriving ecosystem for economic growth and tourism that benefits both nations." John Martin St.Valery OBE BBG Board Director for Government Relations.
John and BBG GM Katy Holmes were honoured to be invited to the Dubai Department of Economy and Tourism by Ibrahim Ahli - Director; Noora Abdulla
- Senior Manager; and Saeed AlHebsi - Principal Executive from the Investment Promotion and Attraction Department
Dubai Investment Development Agency (Dubai FDI) Dubai Department of Economy and Tourism to discuss collaboration opportunities to support British business in the region.
Click here to read the original post.