Dubai may be the capital of the world, but success doesn't come easy
Date Posted:Thu, 27th Oct 2022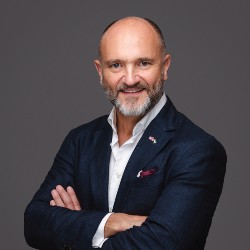 I remember first coming to Dubai sixteen years ago for a vacation and vowing that one day I would return. The Mall of the Emirates had not long opened and The Dubai Mall was due to open soon. Dubai was billing itself as the Capital of the World, which to many was hard to believe. It seemed like a phrase dreamed up by fanciful marketers doing their best to promote this shiny new destination. As an optimist, I believed it and was inspired. I made a plan to return to join the hospitality industry here, which I did eight years later.
It was a determined Ruler who inspired the UAE to emerge faster and stronger than anywhere else in the world, post-Covid. We had to pause our lives and businesses for a while during that period but the hard work and efforts but in then have paid off and Dubai now is booming.
With table reservations hard to get especially in venues many would consider luxury or high-end, developers are creating more and more exciting residential, commercial and experiential destinations in the city, and Dubai has become one of the most visited places on earth in 2022. Visitor numbers have eclipsed those of 2019.
But, having emerged from one crisis to soaring business, it comes at a time when there's staff shortfall and a global economy beset by challenges. The hospitality industry, unfortunately, is being hit from all directions: Food, beverage, rental, energy and human resource cost inflation.
It is a global challenge and even our resilience will find it difficult to fight this one without further sacrifice.
Setting up in the UAE does not guarantee success
The UK and Europe are struggling more so than Dubai, and many operators see the UAE as a destination to grow their brand, which is impossible in many instances in their home country.
Crippling costs are putting businesses in the UK at huge risk and some are looking at growth overseas when once it would have been a distraction.
Fortune favours the brave, as they say, and I have had many conversations with ambitious brand owners and operators from overseas, particularly Europe and America, who are looking to this region as a whole to develop.
Often they have the wrong impression of Dubai, such as believing there's an abundance of available prime real estate to make an easy splash, but sometimes there are very serious brand owners with world-class brands, who want to add something special to this growing culinary destination.
Many think that they can make a quick buck with big franchise fees, thinking that franchising here is easy, or that the brand they have lovingly created is ripe for expansion. I have to tell those that the UAE is a serious country whose growth trajectory is one of the most dynamic in the world and not one to be underestimated.
Over the past 25 years, it has emerged as one of the most visionary, ambitious and far-achieving places globally. The region has also been busy curating some of the most impressive home-grown brands, many ready for export, but that's for another time.
Being uncompromising but accomodating
If newcomers want to survive for the long term in the UAE, their brands, teams, partners and site selection must be uncompromising. Their brand positioning must be well thought out, their leadership must embrace local culture and they need a front line that executes exceptional service standards.
Brands coming here have to embrace the country and buy and employ locally as much as possible. There is not a plethora of prime units waiting to be filled by eager operators but if a brand comes with the proper plan and the team is willing to work hard, there are rich rewards.
I am more convinced today than I was all those years ago when I looked back from the One&Only Royal Mirage to a skyline that was reputed to temporarily home a third of the world's crane population. Dubai can, with comfort, now claim to be a 'capital of the world'.
We're experiencing a challenging period, but I know that the F&B industry here has many exciting brands still itching to join the culinary revolution that is happening right now. They are convinced that the UAE is 'destination success' and I agree with their confidence. But they must proceed with with caution, the UAE does things well, and so should they if they want to be a part of it.
David Singleton has worked with some of the world's best-known brands in 40 countries. As a strategic advisor and leadership coach, he works with brands, organisations, teams and ambitious senior executives in growth mode, globally.
First published on Carterer