British Firms Tread Fine Line Against Rising Inflation in the UAE
Date Posted:Thu, 21st Jul 2022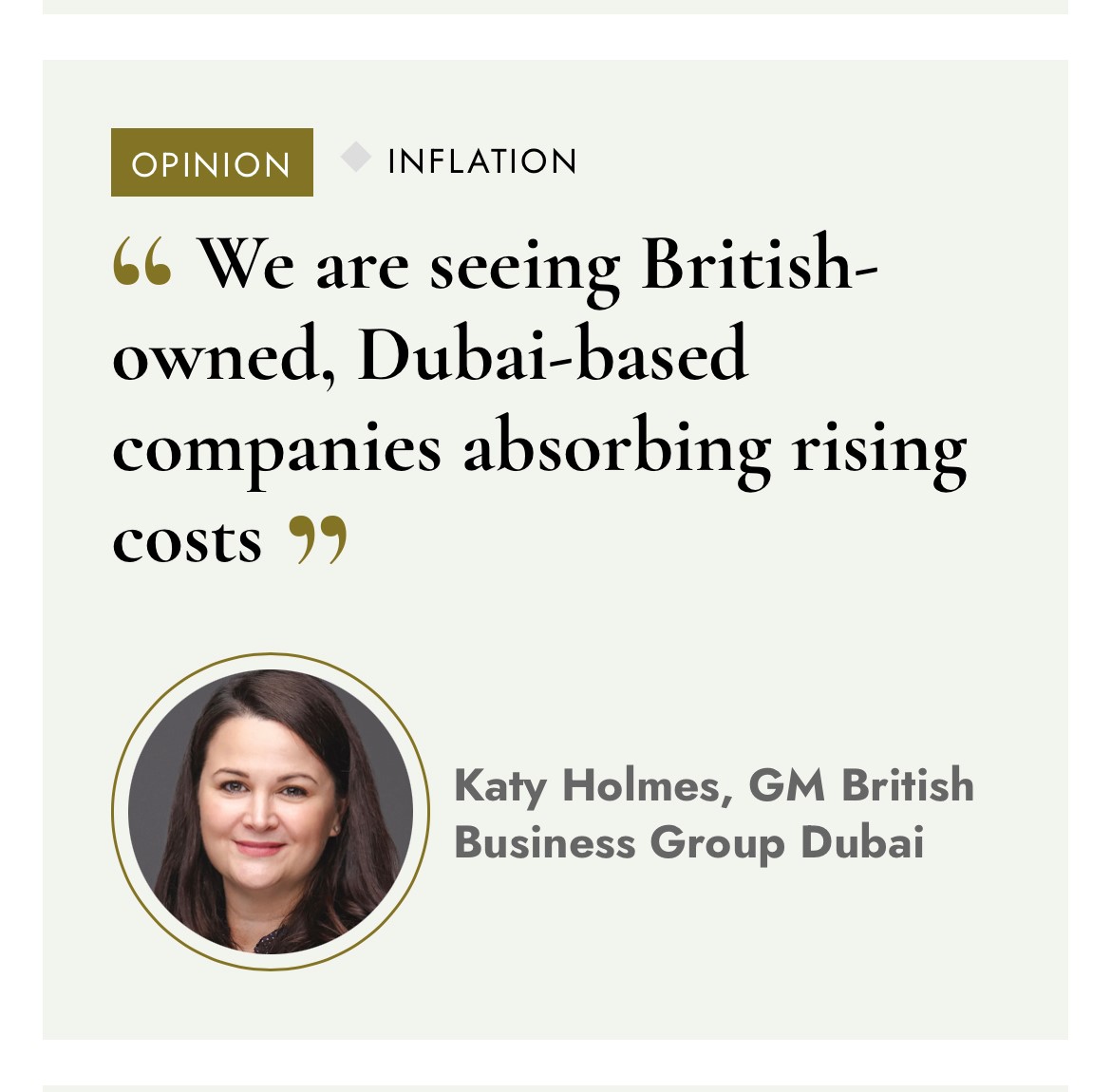 The 'discount culture' is making it harder for businesses to maintain quality in a crowded market. Through our close working relationship with the British Chambers of Commerce (BCC) we at the British Business Group Dubai know that the UAE is not the only country battling inflation.
Businesses in the UK have struggled with soaring prices too – even before the energy crisis began to bite.
In a BCC survey of 1,000 businesses in the UK conducted in February this year, 73 percent of firms said they were raising prices in response to rising costs.
UAE businesses keep squeeze on profits as inflation bites
In contrast, we are currently seeing British-owned, Dubai-based companies absorbing rising costs rather than passing them on to customers.
In some cases, they're also increasing salaries to retain talent. But for how long can this be sustained?
Our members often speak of the "discount culture" in the UAE, with price outweighing quality in the decision-making process in negotiations.
Staying true to British standards and integrity in manufacturing quality, our members remain defiant in their business values. But in a crowded international market, this takes real grit.
For those who have the luxury of being able to select partners and clients, there is a growing trend among members to work only with reliable and like-minded partners.
A strength of the British Business Group is that it attracts and provides a platform for British companies, and brands recognised as supportive of British companies, to meet and connect with one another.
We see great collaborations within the ecosystem based on shared values and agreed and met expectations.
British expats take a risk when moving outside the UK, and for a good 15 to 20 years the risk-reward ratio of doing business in the UAE has consistently tipped in our favour.
However, amid the pandemic, owner-managed businesses felt the isolation intensely, and the majority missed out on government support schemes for businesses – both in the UK and the UAE.
We heard, through our members and through a UAE-wide survey, that business owners were going to great lengths to keep afloat, using credit cards to pay employees, forfeiting their own salaries, and reluctantly making redundancies as a last resort.
The UAE government says it recognises the importance of the expat community and our role in the economy and supply chain.
With recent reforms and greater communication between government and the private sector, there are schemes in place and in the pipeline to ease the financial and operational challenges for SMEs, while also making the UAE an incredibly attractive place to live and work.
Speaking to our members, many will not reach out to banks for financial support, as there is not currently the same support frameworks available as in the UK. Instead, business owners are seeking more creative solutions.
Some members are exploring ways to better control their supply chain. Some are appealing to UK partners to set up in the UAE, and exploring the feasibility of manufacturing hubs based in Dubai.
This would greatly benefit the country, contributing to a more sustainable "made in the UAE" model, reducing shipping costs and impacts on the environment.
There is a concern, however, that with much smaller margins, coupled with a duty of care for staff, the pressure of absorbing rising costs will eventually weigh down on business owners' ability to invest, recruit and grow.
Katy Holmes is general manager of the British Business Group Dubai and Northern Emirates
With thanks to those members that contributed and shared their challenges: Erika Blazeviciute Doyle at Drink Dry; Greg Wright at Food People, Lucy Bradley at Plug Operation Design , Rukhsana Kausar at Liquid of Life LLC, Helen Barrett at CBD Corporate Services and Deputy Chair of the BBG.