Balance in Leadership - BBG partnership with University of Manchester Middle East Centre
Date Posted:Fri, 4th Mar 2022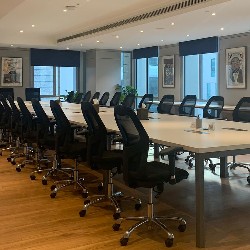 Working with The University of Manchester Middle East Centre the BBG successfully delivered an event that disrupted a lot of bias around International Women's Day at the Capital Club Dubai this week.
"The BBG is in a very fortunate position to help drive positive change towards gender parity in leadership and we hope to help influence and position the topic to our members and across our network" said John Martin St.Valery OBE Chair of British Business Group Dubai and Northern Emirates (BBG)

Below are some sound bites from the event:

- Did you know that the majority of women do not support International Women's Day as they see it as "labelling" and cementing unconscious bias? This doesn't dispute the great spotlight events and champions' efforts in this space but it asks the question - when will society no longer have a need for it?

- We heard today that promotions and hiring of women are harder when a woman is the hiring manager!

- Vulnerability is a strength that leads to deeper engagement in teams, a deeper understanding of the "person at work" that builds more productive and empathic business cultures!

The incredible panelists Auriel Rawlings, Sandrine, Rania Moustafa El khodry, Jaimi Raikundalia and Dr Nada Jammoul Messaikeh, DBA, CPA and moderator Tim Shelton challenged the audience to think beyond the gender debate - to question the work culture - to ask what contribution we are making as sponsors, mentors, allies of female colleagues, friends and relatives to help empower and identify leadership talent and the next generation of diverse and successful board members.

The panel considered the impact and lessons learned during the pandemic and how we all have a better understanding of each other and the possibility of working from home is now a reality - supporting a better, more empathic work culture. Now we need to harness this to support dynamic working that further supports women to take on extra responsibility in the workplace.

There were so many more sound bites and best practice examples of strategic approaches that companies can adopt and we will share them over next week on our social media platforms.