BBG TALKS TO THE NATIONAL: UAE COMPANY LAW CHANGES SET TO SPUR INVESTMENT FROM POST-BREXIT BRITAIN
Date Posted:Thu, 26th Nov 2020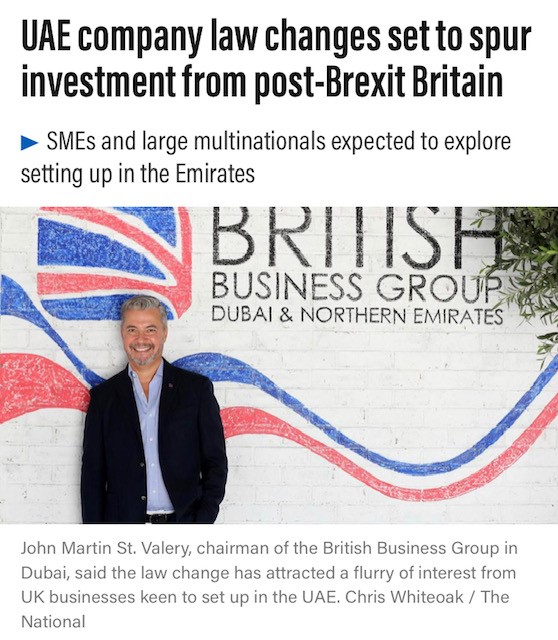 BBG Chairman John Martin St. Valery; Marketing Manager Katy Holmes; and Director of Global Business Network (British Chamber of Commerce) Anne Marie-Martin speak to The National (London Desk) Business Correspondent Alice Hain.
Read the full article as published by The National on the most recent announcement and likely investment activity with UAE company law changes with regards to ownership.
https://www.thenationalnews.com/business/economy/uae-company-law-changes-set-to-spur-investment-from-post-brexit-britain-1.1117166


John Martin St. Valery, chairman of the BBG, said the law change has attracted a flurry of interest from UK businesses keen to set up in the UAE.
"We saw heightened interest from UK businesses – only hours after the announcement," he said.
"This is a major and long-awaited development to secure the UAE as the place in the Middle East to headquarter international businesses."
Mr Martin St. Valery said the move was reminiscent of the aviation sector's "open skies policy" of the 1980s, "which was a real game changer for global aviation".
"Foreign direct investment to the UAE is already a compelling proposition due to the world-class infrastructure that has been built – communication, transportation, education, healthcare etc. The key barrier to entry to overcome has always been the foreign party obligation to cede equity on market entry," he said.
Director of British Chambers of Commerce's Global Business Network Anne-Marie Martin said:

"Our quarterly International Trade Outlook Survey has in the last year or so demonstrated a significant rise in interest from British companies, particularly the SME sector in the UAE. This will continue to accelerate as we move into new global trading relationships, post end of the UK-EU transition at the end of this year."

The British Business Group would love to hear from any UK companies now considering the UAE as a next step in their exploration and growth: info@bbgdxb.com