Fragomen Worldwide - December News Flash
Date Posted:Sun, 8th Dec 2019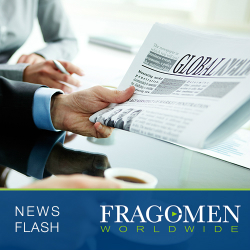 Immigration developments in the MENA Region
United Arab Emirates
The Ministry of Human Resources and Emiratisation launched a new electronic platform for employers in public and private sectors to create job advertisements for Emirati nationals seeking employment in 160 professions. It is expected that the portal, called 'Emirates Job Bank', will eventually become the main labour market testing platform for employers in the United Arab Emirates (UAE). It is not known if companies registered in the UAE's free zones will have to register with the Emirates Job Bank platform; currently only employers in the mainland are subject to the labor market testing requirement.
Qatar
Governments of Brazil and Qatar signed a bilateral agreement on a visa-free entry for citizens of both countries travelling for tourism, business and for transiting purposes. Previously, Qatari nationals had to obtain a visa before travelling to Brazil whilst citizens of Brazil have been subject to a visa-on-arrival policy in Qatar since 2017.
***
The government of Qatar signed a bilateral agreement for visa-free entry for citizens of Rwanda to travel to Qatar for tourism purposes. Nationals of Rwanda holding a normal passport with a minimum validity of six months from the date of entry and a return or onward ticket can travel to Qatar for stays up to 30 days with the possibility of extension for additional 30 days.
***
The Qatar Ministry of Administrative Development, Labour and Social Affairs (MADLSA) now requires all Qatar Work Residence Permit and Labour Card holders to have a registered employment contract that is printed through the online e-contract portal. Individuals holding Work Permits or Labour Cards in Qatar prior to the introduction of the e-contract were not previously required to have a registered e-contract if they already had a registered employment contract with MADLSA.
***
Foreign nationals sponsored by companies registered in the Qatar Science and Technology Park (QSTP) are no longer required to obtain exit permits to depart Qatar. Previously, those with residence permits sponsored by employers in QSTP were required to have this formal authorization to exit Qatar. Foreign nationals travelling on business visas sponsored by companies registered in the QSTP must still obtain an exit permit prior to departure if the total duration of stay in Qatar is longer than 30 days.
Saudi Arabia
Companies in Saudi Arabia continue to be impacted by the recent change in visit visa policy where Commercial Visit and Work Visit Visas have been replaced with a uniform Visit Visa for Business. Despite holding visa invitation letters for either Work Visit or Commercial Visit Visa, applicants are issued Visit Visa for Business with the notification "not permitted to work". As per information Fragomen received from government agencies in Saudi Arabia, including the Ministry of Foreign Affairs (MOFA), the Ministry of Labour and Social Development (MLSD), and the Saudi Arabia General Investment Authority, the decision behind the suspension of Work Visit Visas results from the need to reorganize the responsibilities of the MLSD and the MOFA. Accordingly, all employment matters, including short-term work visits, will be overseen by the MLSD, while visitors for all other purposes will remain under the purview of the MOFA or another relevant authority (e.g. tourists fall under the Saudi Commission for Tourism and National Heritage regulations). As a result of this change, it is expected that a new temporary work visa will be introduced by the MLSD together with a list of activities which may be performed under different visa categories in the coming months. Fragomen is closely monitoring developments in this area and will provide additional insights as details become available.
***
The Ministry of Labour and Social Development issued a decision to increase Saudization in all professions that fall under the specialty of dentistry. Only companies and institutions that employ at least three specialists in dentistry will be affected; this includes the following establishments: medical centres, dental clinics, hospitals, insurance companies, pharmaceutical companies, medical equipment suppliers and dental equipment suppliers.
Oman
The Ministry of Manpower has extended the suspension on the issuance of new work visas for workers in construction and cleaning services for another six months. The suspension applies to 16 professions in the information and technology sector, seven professions in the engineering sector, four professions in the administration and human resources sector, among others.
Jordan
The Ministry of Labour (MOL) issued a list of professions for which foreign nationals must obtain a new category of work permit for skilled workers, which was introduced in Jordan in September. As per the new rule, foreign nationals employed or seeking employment in select professions in Jordan, as determined by the MOL, must obtain a work permit for skilled workers. An official recommendation from a competent authority in Jordan is required to support the application that will be adjudicated by a committee formed by the minister of labour.
Iraq
Effective immediately, foreign nationals can renew their employment visa in country every two years only, as each additional renewal process requires that the applicant departs Iraq. Effectively, individuals who are in Iraq must secure an exit visa, leave Iraq and re-enter once a new invitation letter (LOI) has been issued; those outside Iraq must obtain a new LOI and wait until their current visa expires before they can travel back to Iraq. Previously, there were no such limitations for renewal of employment visas in country.
***
According to an initial announcement by the Ministry of Interior (MOI), employers in the oil and gas sector are required to obtain employment visas for their workers directly with the MOI and with the limited involvement of the Ministry of Oil or the respective concession-holding company (also referred to as FOD). The visa invitation letter (LOI) will be issued by the MOI and foreign nationals will obtain their multiple entry visa sticker through a consular post abroad, or upon arrival in Iraq. Previously, the FOD's involvement in the process was mandatory, and the LOI could be issued by either the MOI or the Ministry of Oil.
About Fragomen
Fragomen is the world's leading single-focus provider of immigration services and support. Our firm is comprised of law practices and immigration consultancies that work together to support our clients across all regions globally. At Fragomen, we leverage our collective immigration experience to offer clients targeted and trusted solutions that help them achieve their local, regional and worldwide business goals.
Fragomen's team of dedicated immigration professionals has extensive experience in working with multinational businesses, local employers, start-ups and individual investors. We have a deep understanding of the region and maintain strong professional relationships with immigration authorities. Our MENA immigration team is supported on a global basis by over 3,800 immigration professionals in more than 50 offices worldwide. Together, we provide comprehensive immigration support in over 170 countries.
All we do is immigration, a sole focus that makes a considerable difference. Unlike many other providers, all of our thinking, passion and resources are dedicated to improving the immigration experiences of our clients and their employees. We have the track record, region specific experience and know-how to provide you with a streamlined and compliant immigration solution
Visit our website www.fragomen.com or contact us at dubaiinfo@fragomen.com to learn more about our company and services.