Why good internal communication is becoming increasingly important
Date Posted:Thu, 16th May 2019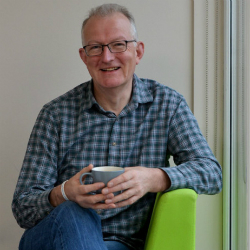 How can BBG Dubai members improve internal communication? By Alastair Scott, managing director of 20/20 Productions
Internal communication is key to attracting and retaining employees, but so many organisations get it wrong. In fact over half of all global businesses struggle to retain staff.

Why is this the case and how can BBG Dubai members improve internal communication?

Thanks to advances in technology, companies are becoming more flexible than ever, with 60% of UAE employees taking advantage of remote working at least one day a week. This brings with it huge business benefits, including access to a wider talent pool, but it also impacts how companies manage their internal communications.

When you also consider that the retirement age is increasing and more millennials and Gen Z-ers are entering the workforce every year, it's clear that today's workforce is more diverse and disparate than ever. In this employees' market, companies are having to do more to convince their top talent not to simply look elsewhere.

Consider these steps when planning your internal communication strategy to ensure that your team is engaged, wherever they are.

Know your audience

Thinking about who your employees are and what's important to them is the best way to start developing an internal communications strategy. With remote workers, this insight is crucial. Keeping them up to speed with company developments is essential if you want to keep up engagement and avoid feelings of disconnect.

Remote workers may be separated by distance, but with the right communications in place, they should not feel separate from your organisation.
Make sure you have a good understanding of how your team gathers and analyses information, and which methods of communication work best for them. Although this will vary from individual to individual, you may find similarities between certain age demographics. Don't rely on boardroom meetings to relay important updates if not all of your team can attend. Physical meetings are still beneficial, but avoid confusion and frustration amongst remote, flexible and part-time workers by having a solid process in place to keep all employees on the same page.

Another thing to consider is what matters to your employees. Although you may have a wealth of information to share, choosing the right information to achieve maximum impact amongst your team is crucial. Try to develop an understanding of what company news is most important to your workforce, be that a commitment to personal development, recent mergers or even environmental policy.

Dates in the Diary
Do you have a new client, a new process or an upcoming merger on the horizon? You should know in advance of any significant dates, important changes or developments that will take place within your company.
Plan out how you will communicate significant changes to all employees to avoid unnecessary shock or panic. Face to face meetings are usually the preferred method when you need to provide reassurance to your team but given the nature of the modern workforce this is not always possible.
An example of a fantastic alternative to meeting in person is video calling, but you must ensure that enough time has been allotted to these conversations. Consider time differences and pre-plan video discussions in the same way as regular meetings to avoid giving the impression that non-office-based workers are an afterthought.
During periods of change, the worst kind of communication is no communication, so make sure you've planned to avoid causing a wave of misinformation.

Use technology effectively
This is especially important in settings where much of the team works remotely or flexibly. If it's logistically difficult to have all your employees in the same place at once, using technology effectively can have a huge impact on productivity. The right technology should connect teams and help overcome the obstacle of distance.

Internal videos are a great way of engaging employees. Easily digestible, they can convey a large amount of information in a short space of time, with minimum effort on the part of the employee.

You can also introduce group chats via a company intranet, and even use tailor-made software to facilitate collaboration. The key is to use technology that meets the specific requirements of your team.

Ask and Survey
Want to find out if your internal communications strategy is hitting the mark? Actually asking your employees will give you the best results!
Online surveys are a quick way for your team to tell you how you're doing – they have the benefit of being easily sharable to employees in various locations. To receive honest and more constructive feedback, ensure that your polls are anonymous, and that everyone is aware that they are.
You don't always need to take a direct approach, however. Look for evidence of workers using the chat function on your company intranet or effective use of collaboration software and listen out for phone calls or discussions between office and non-office-based employees.
Act on the results
There is no point in making decisions on internal communications if you don't then measure the results and act on them. After the survey is complete, take on those results and make informed changes. Your employees will absolutely thank you in the long-run and will be more invested in the company.
It's no secret that happy employees are more engaged and therefore more productive. Poor communication among your staff prompts frustration and disengagement, often causing them to look for career opportunities elsewhere. Demonstrate just how valued your employees are - flexible, remote, part-time, full time and everyone in between. By following these simple steps to better internal communication for the changing workforce, you'll be on the right path and will reap the benefits.
Alastair Scott is managing director of 20/20 Productions, a Dubai, Edinburgh and San Francisco-based production company delivering events, digital, film and creative projects.