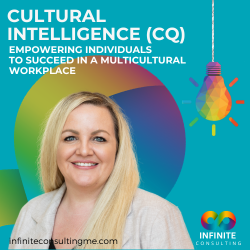 Cultural Intelligence (CQ) Mastery: Empowering Individuals to Succeed in a Multicultural Workplace
Event Date: Tue, 17th Oct 2023
Event Time: 8:00 AM to 10:00 AM
Venue: ROVE Downtown
Location: Al Mustaqbal Street, Dubai

View Map
Member Registrations Fee: 145 AED
Pre-members Fee: 190 AED
Register Now
Members must be logged in to receive member rate
Join Emma Jordaan, Director and Founder of Infinite Consulting, a leading learning and development consultancy in Dubai, for an enlightening session on how cultural intelligence (CQ) has become an essential skill for individuals and organisations to succeed. Join us for an enlightening talk where we will explore the power of CQ and its role in equipping you with the tools to excel in such thing's communication, decision-making, and leadership when working in a multicultural environment. The session will go through:

* What is Cultural Intelligence (CQ)?
* Understanding Cultural Value Preferences
* Strategies and Tools for working in a multicultural place
* Resources ideas on how to develop CQ

Fee includes breakfast
Free self-parking available
Dress: Business

If your company is a BBG member and you are not a named member, please register by emailing booking@bbgdxb.com to benefit from the member rate, named members should register online as usual. Cancellations will be accepted until 11.59am on Friday 13 October after which "no show fees" will apply.