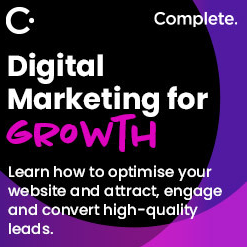 Digital Marketing for Growth
Event Date: Tue, 6th Jun 2023
Event Time: 6:00 PM to 8:00 PM
Venue: Bedrock
Location: 1st floor , Pier 7 Marina - Dubai

View Map
Member Registrations Fee: 50 AED
Pre-members Fee: 150 AED
Registration Closed
Join us for an exciting live event with Tom Smith, Managing Director and founder of Complete and Barney Rogan, Head of Marketing. Established 14 years ago, with offices in Dubai and the UK, Complete is an award-winning, full-service digital marketing agency providing online solutions for a digital world.

In this session, Barney, who has spent over a decade creating digital strategies and leading digital marketing teams, will discuss lead generation strategies to help drive business growth. Followed by Tom, who will share insights on elevating online user experience gained through over 20 years of experience in website development and optimisation.

Don't miss out on this exciting opportunity to equip you with best practices to help your business thrive in the ever-changing digital landscape.

Here's what you can expect:
1. Lead Generation Strategies: Learn how to attract, engage, and convert high-quality leads for your business. Discover proven strategies to optimise your lead generation campaigns, leverage data-driven approaches, and maximise ROl. Our expert speakers will share their success stories and provide actionable tips to help you generate a steady stream of qualified leads.
2. Elevating User Experience: Understand the pivotal role of user experience (UX) in driving customer satisfaction, loyalty, and revenue. We will dive into the best ways to optimise your website for a better user experience. Our experts will guide you through the process of enhancing your website by simplifying your navigation, improving your website's speed, using clear and concise content, making your website mobile friendly and implementing clear call to actions (CTA).
3.Case Studies: Gain inspiration and insights from real-world case studies of businesses that have achieved remarkable growth through effective lead generation strategies and superior user experience.
4. Networking and Q&A Session: Connect with fellow businesses, industry experts, and thought leaders in a vibrant networking environment. Share experiences, ask questions, and forge valuable connections that can open doors to new collaborations and opportunities.


Don't miss out on this incredible opportunity to enhance your digital marketing strategies for growth. Join us at the Digital Marketing for Growth Event and empower yourself with the knowledge and skills to excel in lead generation and user experience.

Secure your spot now and let's accelerate your digital marketing success together!

If your company is a BBG member and you are not a named member, please register by emailing booking@bbgdxb.com to benefit from the member rate, named members should register online as usual. Cancellations will be accepted until 11.59am on Friday 2 June after which "no show fees" will apply.


In Collaboration with: