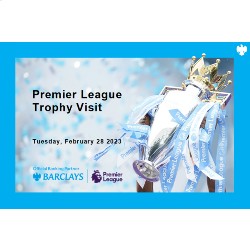 Barclays Hosts Premiership Trophy in DIFC
Event Date: Tue, 28th Feb 2023
Event Time: 9:00 AM to 5:00 PM
Venue: DIFC
Members Fee : FREE
Pre-members Fee: FREE
Registration Closed
As the Official Banking Partner of the Premier League, Barclays will be host to the Premier League trophy at its DIFC office as part of a wider tour next week.
As a sponsor and long term supporter of the BBG, Barclays is inviting BBG members and family members to come to the Barclays office to see the trophy during its display and take a photograph with it.
Standing at 104cm tall and weighing over 25kg, the Premier League Trophy is a trophy of champions and it will be displayed at the Barclays DIFC offices between 9.00am – 5.00pm on Tuesday 28th February 2023
There is limited capacity so please register your interest as soon as you are sure you can attend and more information will follow - children are welcome.