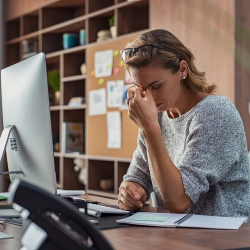 Understanding the Impact of the Menopause on Women in the Workplace
Event Date: Wed, 16th Nov 2022
Event Time: 8:00 AM to 10:00 AM
Venue: Crowne Plaza Dubai Marina
Location: Al Yahoom St, Dubai Marina

Member Registrations Fee: 145 AED
Registration Closed
Up to a third of women will experience severe menopausal symptoms that can impact on their quality of life. It is in the work context that women often report greater difficulty in managing symptoms and can feel embarrassed and unable to disclose their menopausal status, fearing they may be stigmatised for being menopausal. For this reason, the BBG is working with Kings College London Hospital, knowledge partner the Chartered Institute of Personnel and Development (CIPD) and experts from within industry and wellness to bring this important topic to light.
We hope to kick start conversations that will empower women to seek support rather than feeling the only option is to drop out of their careers and to provide knowledge and tools for HR professionals and business owners to better support this inevitable phase of a woman's life to retain their talent.
Panelists confirmed so far are:
Dr Marlain Mubarak - Consultant Obstetrician and Gynaecologist, Kings College London Hospital, Dubai
Sharon James, Women's Health and Wellbeing Coach
Charlotte Chedeville, Regional Head of Operations - MENA of the Chartered Institute of Personnel and Development (CIPD)
Cost includes breakfast and valet parking
This is a pre-pay event and your place will not be confirmed until payment is received. Cancellations will be accepted until 11.59am on Monday 14th November after which "no show fees" will apply.
All colleagues of BBG company members, other than named members, benefit from member rates for events by emailing booking@bbgdxb.com. Named members register online as usual.
Sponsored by:



In collaboration with: