I.T.L TOURISM & TRAVEL (L.L.C) Members
Company Information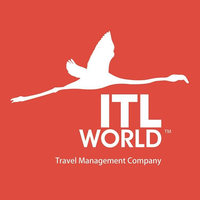 I.T.L TOURISM & TRAVEL (L.L.C)
Phone - +971 4 605 9997
Url - www.ITLWorld.com
City - Dubai
Postal Code - 122358
Sector - Hospitality/ Food and Beverage/ Tourism
Address - Level 1, Tower A, Centurion Star Towers Post Box 122358, Dubai, UAE

About Company
ITL World is a leading Travel Management Company in the Middle East and one of the fastest growing Travel Management Companies in Asia & the Middle East. With several fully owned and operating offices across Asia, Middle East & Europe, ITL World has also consecutively been rated as the 5th most powerful Travel Management Company in the Middle East. ITL World's strategic partnership with award winning Global Travel Conglomerate - CTM - spans across the Middle East & India.

With its 5 prominent sub-brands - 'ITL World Elite' (exclusive bespoke travel for HNI's and Royalty), 'MiceMinds' (catering to the Meetings, Incentives, Conferences and Events/Exhibitions), 'Arabian Experience' (a fully-fledged Destination Management Company), 'Tripmakers' (a state of the art B2B portal & destination management company in UK and the Far-East) and 'EduVoyage' (enriching Education with Travel), ITL World offers a comprehensive portfolio of travel related products and services to diverse realms/industries.

ITL World is a Travel Management Company providing unique experiences to the traveler of today, be it for inbound or outbound tourism, corporate travel, MICE, Educational etc. We have been on a continuous mission to understand and enhance the experience for a new-age traveler and this has led to the introduction of MiceMinds and Arabian Experience in 2013, targeting focused groups and delivering unique customer experiences. While our Corporate Travel Unit now provides total travel management solutions to MNCs, SMEs, government bodies etc. The future for ITL World is to cater to the new-age technology savvy traveler by enhancing and providing a seamless interactive online experience.



Today, we are located across UAE, Saudi Arabia, Qatar, Bahrain, Kuwait and India and ranked as the 5th Most Powerful Travel Companies in GCC by Arabian Travel News. With our exceptional service and a fully trained ground staff that's available to assist you 24/7, 'Expectations Delivered' is the promise practiced within ITL World, which emphasizes on its commitment towards Superior Customer Service.

Born in the 1980s, ITL World is run under young, dynamic and futuristic leadership team. Having specialized units and competent teams for different areas of the Travel and Hospitality business ensures that it is able to address and deliver the requirements of various audience.

ERAM Group, its parent company, is a leading business conglomerate with prominent presence across GCC, Europe and India for over 2 decades, expanding itself as one among the largest business establishments in the region. It's expansion across vast regions has inspired diversification into various industries as well which includes Industrial Contracting, Project Management Solutions, Automotive, Healthcare, Travel, IT, Manufacturing, Trading & Product Representation and other service sectors.