Global Advocacy and Legal Counsel Members
Company Information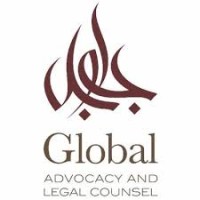 Global Advocacy and Legal Counsel
Phone - 97143277772
Url - http://www.globaladvocates.net/
City - Dubai
Postal Code - 93443
Sector - Legal
Address - Rolex Tower, Level 21, Sheikh Zayed Road

About Company
Global Advocacy and Legal Counsel is a leading Middle Eastern law firm. Established in 2003, we have offices in Abu Dhabi, Dubai and Muscat* and provide local, regional and international clients with a full business law service.

Internationally licensed, experienced and educated, our diverse team combine a wealth of knowledge from around the globe, including the UAE, US, UK, Oman, Australia, Italy, Germany, Egypt, Lebanon, Jordan, Syria and India.

We are permitted to practice local law in each of the jurisdictions in which we operate and our teams of highly skilled and experienced advocates and legal consultants have rights of audience before the local courts, including the Dubai International Financial Centre and Abu Dhabi Global Market Courts in the UAE.