Alliott Hadi Shahid Chartered Accountants Members
Company Information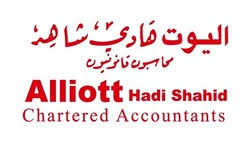 Alliott Hadi Shahid Chartered Accountants
Phone - 04 222 7355
Url - https://www.alliottgroup.net/trusted-law-and-accounting-firms-worldwide/firms/alliott-hadi-shahid-chartered-accountants-dubai
City - Dubai
Postal Code - N\A
Sector - Banking/Finance
Address - Baniyas Rd - Dubai

About Company
Alliott Hadi Shahid, is one of the leading firm of Chartered Accountants, Auditors and Business Advisors in the United Arab Emirates since 1976. We are marked by our commitment in providing cost effective, reliable, timely delivery and high quality professional service, we assure our clients are guided professionally and given appropriate professional advices toward the development and growth of their businesses.

Our team of experienced and qualified professionals is guided by top caliber partners who have been in the practice for the past 40 years. AHS is recognized by providing genuine personalized professional services, total client satisfaction, innovation and top of the line services.

Moreover, we ensure our specialized services are complying with the highest level of international standards and quality. Our business portfolio features a mix enterprises and multinational companies from different business sectors.